About us
The John Godber Centre is a focal point for a wide range of community activities ranging from sports, fitness and dance classes, through educational support, to theatrical performance, wedding and party celebrations, and
St Mary Magdalene Church
outreach. The Centre can trace its history back over 110 years to 1905, when local born Rev. Canon John Godber, and Rev. Edward Roberts the vicar of
St Mary Magdalene Church
, proposed the building of a new church hall. Canon Godber inherited significant wealth during his lifetime and much of this was shared through his generous giving within the community he called home. Promising to give £100 for every £50 raised by the people of Hucknall, he contributed the bulk of the cost of building the Centre and extending
St Mary Magdalene Church
, next door. The land upon which the Centre is built stretches 100 feet wide between Ogle Street and West Street and was donated by his Grace, The Duke of Portland. On Boxing Day 1905, a short service was held to mark the cutting of the first 'sod'. Canon Godber performed this ceremony with a commemorative spade of Ebony and Sterling Silver, presented to him by the 'People of Hucknall Torkard', as the town was then known. A display cabinet in the Centre reception remembers Canon Godber, tells more of his story and houses the actual spade used during the ceremony. Sadly, Canon Godber never saw his dream realised as he passed away in July 1906, shortly before completion. In today's money, his life-long giving to the Hucknall community would run into many millions of pounds. Happily, the Centre and neighbouring church continue to support the town of Hucknall and remain his enduring legacy.
Today, the Centre's aim is to support the 'life events' of the community, offering rooms to hire for wedding receptions, parties, business meetings and conferences, anniversaries and celebrations of all kinds. A wide range of user groups offer opportunities for social entertainment, study, fitness and wellbeing, drama, dance, preschool, self help carers, and bereavement support.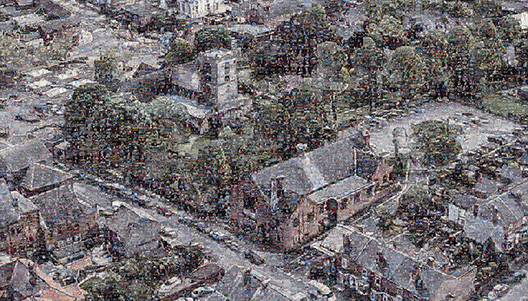 Aerial image of the John Godber Centre celebrating our 110th Anniversary, made from supplied community images of events at the Centre. Click the image to enlarge.
The John Godber Centre is owned by
St Mary Magdalene Church
and governed by the church council with a team of 8 staff employed to manage its day to day running. The Team:
Manager and Community Groups Facilitator
- Kim Pears
Duty Managers
- Jennifer Carlin, Tracy Roberts and Becky Wallace
Cleaning Support Team
- Claire Bearder, Jacqui Parker, Vacant Post The John Godber Centre is part of The Ecclesiastical Parish of Hucknall Torkard which is a Registered Charity. Charity Number 1132272