Lifting of Restrictions from 19th July
Reopening of the John Godber Centre – Lifting of Restrictions from 19th July
We're pleased to hear of the lifting of restrictions from the 19th July following the latest Government announcement and appreciate the lifting of legal restrictions will be both a relief and a cause of anxiety to many.
The John Godber Centre leadership teams have been reviewing and discussing the latest information and our plans for the coming months and how best we can support all who use and work in the John Godber Centre.
COVID-19 has not gone away and cases remain high and rising in the community and the building is well used by various age groups, types of activities and does have vulnerable users. Cases of self-isolation continue to be a concern which will remain in place until later in the summer when more of the population has been fully vaccinated.
We are therefore planning a cautious and careful lifting of measures within the John Godber Centre, particularly the public areas where people are likely to come into contact with others.
We take our responsibilities as an employer and business very seriously and want to play our part to look after our team and those using our community venue and though the responsibility has moved from a legal requirement to a personal recommendation there are some measures we can continue to do for the foreseeable future to help keep the risk of transmission low.
This will include:
Maintaining the keep left and no queuing or waiting in the building to reduce the risk of close contact in enclosed spaces such as reception and corridors and reduce use of low ventilation areas
Continuing to monitor booking times and recommending specific entrances and exits to reduce crowding in the public areas (ground floor users to use reception, first floor users to use the rear entrance)
Keeping hand sanitiser stations at all entrances and exits and in key public areas and encouraging hirers to provide in sessions.
Maintaining increased cleaning of key touchpoint areas around the building in public areas throughout the day by our team.
Reopening some additional cubicles in the toilets inline with increasing users.
Recommending contact details for activities continue to be kept by hirers to support test in trace if needed. Maintaining QR codes located at entrances.
Strongly encouraging the Governments advice – o It is expected and recommended that people wear face coverings in crowded indoor areas o Let fresh air into rooms as much as possible to improve ventilation.
Hirers will have full discretion about their approach to activities in their rooms which they are responsible for and we understand and support any additional measures or relaxing of steps for their class or group. They will know best and understand the needs and feelings of attendees with regards to COVID and the right steps for them.
We're proud of all the efforts made by hirers, staff and volunteers throughout the pandemic to reduce the risk of transmission and we will continue to do all we can to minimise the risk to all and respond to any new advice or public health measures as necessary and hope that everyone will understand our cautious approach in keeping some measures in place beyond the 19th July for the benefit of all.
The venue is many things, a place of celebration, a place of community and a place of business. We are fortunate to be home to so many groups and activities and have seen an increase in interest in the building and its timetable. It is important to us that we consider the feelings and wellbeing of all who work and use the venue as we move forwards during the coming months. The safety and wellbeing of our team and the people who visit and use the venue will always be our highest priority.
We're thankful for the support and kind words about our plans and understanding that a lot of time, care and thought has gone into ensuring we adhered to guidance and protected our team, users and charitable aims throughout the last 16 months. We're pleased that things will be moving to a more positive and normal place and we can welcome back all groups, socials and life events in the coming weeks.
We will be in contact with hirers directly to discuss their plans and please contact us if you have any concerns about the lifting of measures, now or at anytime in the future.
Updated John Godber Centre Covid-19 Risk Assessment
For your information, and reassurance that we are undertaking all that we can and must, to protect users and staff, please find attached the John Godber Centre Covid-19 Risk Assessment.
In compiling this document, the Government's guidance for multipurpose community venues has been used alongside information from ACRE (Action with Communities in Rural England) and Church of England's guidance (as the Church Hall) Guidance for other industries (hospitality, visitor and heritage sites, offices and workplaces) have also been reviewed.
Please click the image below to view or download the document.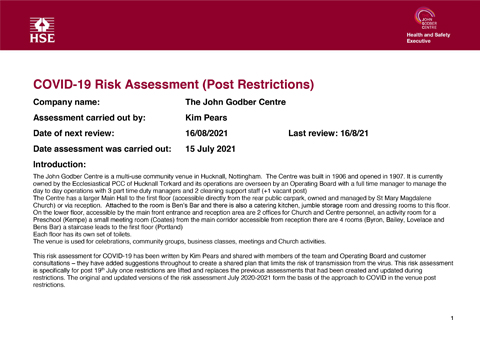 ---